Product image 1
Product image 2

Product image 3
Product image 4
Product image 5

Product image 6
Product image 7

Product image 8

Product image 9
Product image 10
Product image 11
Product image 12

Product image 13

Product image 14

Product image 15
Product image 16
Product image 17

Product image 18
Boat launching made easy
Getting a boat in and out of the water at your weekend holiday house or pop up sailing event isn't easy without a boat ramp or concrete path. Muddy wet surfaces can get you, your boat or even your vehicle bogged.
Mobi-Boat Ramp ™ is a patented roll out 100% polyester mat, designed for creating easy boat launches and accommodating trailers and vehicles light on unstable grounds including sand, mud, swamp and gravel.
Robust non-slip corrugated surface
Designed for US Military forces using patented 3D technology, the puncture resistant corrugated surface is saltwater resistant and provides great traction for wheeled vehicles.
Ground Protection
Mobi-Boat Ramp makes boat launching easy, while also protecting the ground from any damage that could be caused due to recurring vehicle traffic.
Easy Installation
Mobi-Boat Ramp can be installed on any surface with minimal ground preparation. It takes too people just 15 minutes to roll out 50 metres. Stake anchors are supplied for securing the mat to the ground.
Flexible Configuration
Mobi-Boat Ramp comes in lightweight rolls. Each roll is equipped with specific fitting on both ends, allowing an easy connection with additional rolls to create a boat ramp of any size.
Low Maintenance
Mobi-Boat Ramp can be used as a temporary or permanent solution. Under normal conditions it requires little to no maintenance and can be swept with a broom or leaf blower and can be washed with a high pressure washer.
Environmentally Friendly
Made in France from 100% recycled plastic bottles. Mobi-Boat Ramp contributes positively to the environment yes is super durable.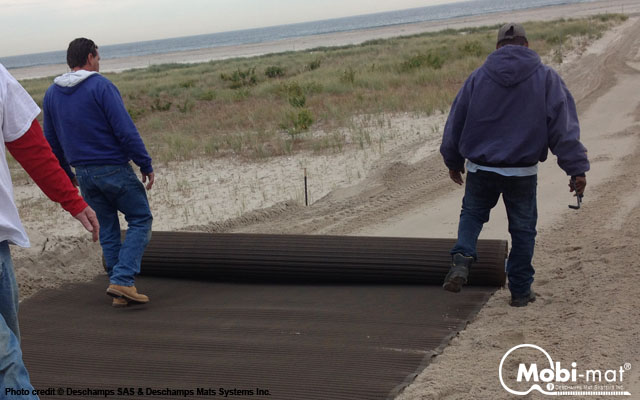 FAQs
Can it be used on unstable grounds?
Yes, boat docking and undocking is made easy on unstable grounds such as sand, mud, creeks, oceans, swamps, lakes and gravel.
Are there different types of Mobi-Boat Ramps?
Yes, they vary in width and weave. There is an AFX weave and A2X weave. The A2X is the heavier duty weave. 
Is it non-slip?
Yes, it is a patented non slip corrugated surface which prevents tyres  from slipping even if it is submerged in water.
Is it portable?
Yes, it's portable but it can be used either as a permanent or temporary solution. 
Is it easy to install?
Yes, it's easy to roll out and install and easy to dismantle after use and roll away. It is also low maintenance.  
What size vehicles can it manage?
The AFX ramp supports light and medium sized vehicles.
The A2X ramp supports frequent use of full size cars and tractors. 
Does it protect sensitive ground?
Yes, it prevents ground damage due to recurring vehicle traffic and protects sensitive ground. It is very environmentally friendly and is compliant with environment regulations.
Does it easily connect onto existing infrastructure? 
Yes it does.
Is it saltwater resistant?
Yes, it's very durable. It is not impacted by salt water and can be left fully submerged in water. 
Is it affected by tidal change?
It is unaffected by tidal change. It can be secured to various types of ground cover. 
Installation & Use
Minimal ground surface preparation required
weighs 1.66 kilograms per square metre
Only 2 people required to roll out the ramp
Approx 15 minutes to roll out 50m 
Secured to the ground with easy to use stakes - inserted through eyelets
Beach cleaning vehicles are able to drive over the mat - slowly with rakes raised 
Little or no maintenance under normal conditions
Can be swept with a broom or leaf blower
Size