Mobi-Fence­™ Erosion Control and Protection
Product image 1

Product image 2

Product image 3
Product image 4
Product image 5

Product image 6
Product image 7

Product image 8
Product image 9

Erosion Control and Protection
Mobi-Fence provides the ultimate solution for erosion control, beach renourishment and dune reinforcement, as well as windbreak protection for coastal assets including roads, paths, houses, resorts, parking, playgrounds etc. The innovative seamless rollout design blocks 100% of sand. We offer a biodegradable and non biodegradable product, both are made from 100% recycled plastic. 
Innovative green technology
The biodegradeable Mobi-Fence is made in France from a 100% biodegradable and compostable multilayer rot-proof fabric, certified by the United States Department of Agriculture. UV and sea water resistant, the high tech fabric also has a high perforation and abrasion resistance.  
Technical Efficiency
Mobi-Fence efficiently reduces wind velocity at ground surface and traps blowing sand. It's small holes prevent sand from going through it and its high permeability works as a successful windbreak without creating a billowing effect.
Easy Installation
Installing the Mobi-Fence is easy and quick due to its flexibility and light weight 40kg per 50m roll or 340gr/sqm. The innovative design includes seamless pockets which easily slide on to wooden posts - posts not included.
Economical and energy-efficient coastal landscaping
Sand extraction is an expensive operation for communities, not to mention the dangers and obstacles which occur in sand. Mobi-Fence contributes to energy efficient coastal landscaping.
Fully compostable
Mobi-Fence is certified by Biodegradeable Products Institute as a fully compostable material, which means it can be left in the natural environment with no negative  impact on the ocean or coastline system.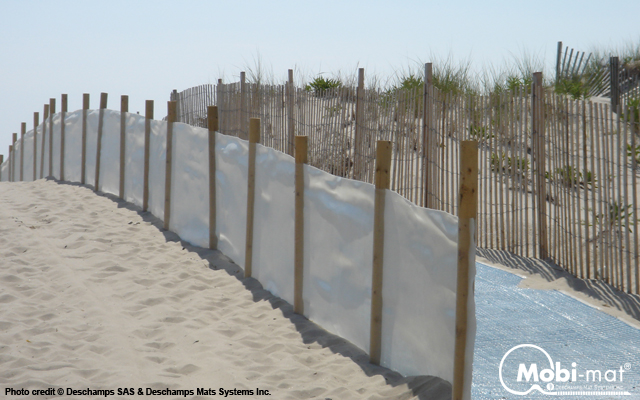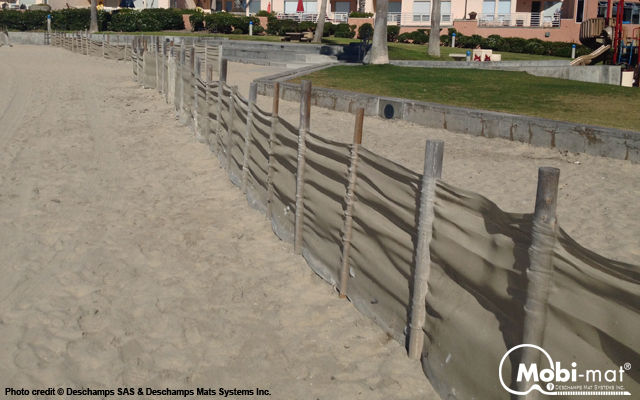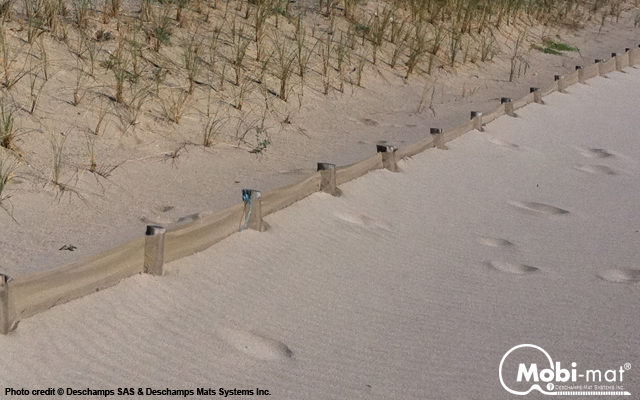 FAQS
Does it help control erosion?
Yes, the Mobi-Fence helps combat erosion by trapping and blocking blowing sand.
Is it biodegradable?
We offer a biodegradable fence for sand dune creation and a non biodegradable fence for long term path and coastal asset protection. Both products are made from 100% recycled plastic. The sand dune creation product is compostable and starts to biodegrades after five years so it will not harm the ocean or the animals that live in it.
What kind of protection does it provide?
It provides dune and beach reinforcement and provides protection to coastal assets like paths, plants and parking areas etc
How strong is it?
It is UV, seawater and perforation resistant. 
How difficult is it to install
It's innovative design of seamless pockets make it quick and easy to install with wood posts, saving you time and money. 
How much does it weigh?
Each 1m high x 50m long roll weighs 40kg.
Are the wood posts included?
The wood posts are not included. 
Are other sizes available?
Please get in touch to discuss your needs with us.
Locations you can view
Carrum, Victoria
Semaphore, Victoria